How to generate Coupon Code in Magneto
step:1)for generate coupon code going to the admin side promotion->shopping cart price rule and click add new rule button as per below screen and fill up the fields rule name,description,status,allow for customer group,code name uses per coupon,and apply date for coupon .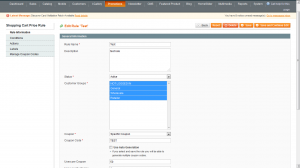 step:2) click condition tab and make apply the rule if condition are met(leave blank for all product) as per below screen.
step:3) now click on action tab and select the rule apply on which amount and fill up the fields discount amount,qty,select apply to shipping amounts,select shipping as per below screen.
step:4) now click the save button and you wil show and apply your copon code in your shopping cart page.