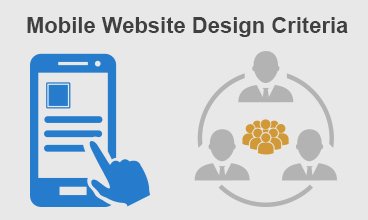 Have You Followed these Mobile Website Design Criteria?
One research states that by the end of 2014, globally around 1.75 billion people will start using the Smartphone. This indicates that if you adapt this speedily growing sector, you will definitely reap the advantages of this fastest growing technology and get huge success for your business.
For your business, it is more beneficial to you as your website is easily accessible by different devices and your website design has to be like that it serves to desktop users as well as Smartphone users.
There are some website designing criteria, which should be followed during website designing. So, your website will look perfect on Smartphone devices. Here they are,
Identify your Targeted Users
One of the best services, Google is providing us is to track any data through analytics and as per those details we can apply changes on our websites to improve results. Therefore, while designing a mobile website for mobile users it should not be pleased with developing a one size fits all kind of solutions.
Analyze the data and determine which kind of Smartphone devices, are mostly used by users globally and according the results you should plan your site designing. As per the data results now you can develop your website in such a way that it will easily target the large amount of your users. Also, ensure that your website is also easily viewable on other devices.
Context is Key
Although the performance of a mobile website is very different from desktop website, designers should identify that which is the main portion which users looking for when they visit the website and ensure that it is easily accessible.
While surfing on Smartphone's, user lands to your website to get some specific details or services, if users can easily find all the details, then you are giving them a great user experience on mobile devices. Sometimes users come to your website to get your contact details like contact no, email id, address, etc. Hence, it should be top on the page and easy to access.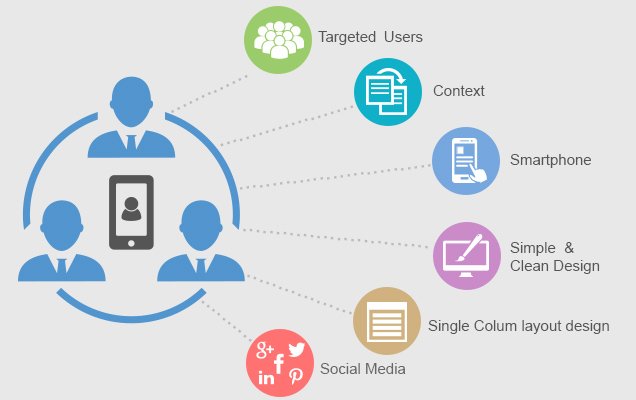 Smartphone = Touch Screen Device
As said earlier, it is essential that all website pages, links, buttons are easily tap and accessible with the fingers which gives good user experience. Try to integrate large buttons and links that can be easily accessible by users. In addition, properly use whitespace around the links and buttons so they don't end up getting in each other's when the viewer is trying to tap on one of them.
Keep the Design Simple & Clean
While designing a mobile website it's not about the give extra ordinary feeling to users about your website with heavy design and graphics. It's about to help them to move around easily without any trouble of website loading time, heavy graphic design, etc.
That's why website design should be planned properly that it includes all the essential website things and keep the design simple & clean. Also, keep in mind that with simple and easy design, your website still maintains the difference and doesn't look like other websites.
Go For Single Colum Layout Design
While designing a desktop website, you will have many website layout options but in case of mobile, single Colum layout is the only choice if you want the design to stay simple to get around.
Even if the Smartphone has big display, still it's frustrating for users when they have to scroll through several columns to search the details they are looking for, so keep the single column layout design for mobile website.
Incorporate Social Media
Usually mobile users quickly share content on their social media feeds. Its beneficial for you, as if you design your website in such a way, which lets mobile users easily share what they like on social media, you will get good exposure on social media sites.
So always, set the links of your social media sites and set buttons of your social accounts on all the website pages.
Summary
With the continuous increasing the Smartphone users, a company who want to stay ahead in the market must serve their needs. Hence, making your website mobile friendly is a main concern, you can accomplish it by determining who are your mobile users, what they are searching for on your website and then making their user experience more easy and smooth as possible.