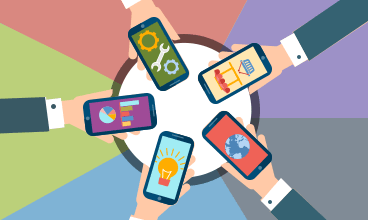 Must Watch Mobile UI/UX Trends in the Year 2015
Day by day mobile industry is booming and launching a new, advanced design trend which helps you to design remarkable applications. It's a further discussion whether the apps will hold the reins or not in the future. Past and current mobile statistics already clear many things about it. Statistics show that the mobile device usage has significantly improved in the last few years and predicted to be increasing the mobile user's ratio in the upcoming years. Hence, it is crucial to have a mobile presence for your business to target your potential users and gain more profit for your business.
Last year, we saw various mobile design changes for UI and UX patterns. With time diverse trends come into the market for the mobile UI and UX design. This article will show you some of the popular mobile design trends to boost the UI and UX of the mobile applications. Also, it's expected that these trends will become popular and rule in the year 2015.
Let look into those mobile design trends to revamp your mobile presence which helps you to stay different and ahead of your competitor.
Simple & Remarkable Color Scheme
Usage of flash on the website becomes the outdated technology, nowadays users likes a website which has simple, elegant and eye-catching design and colors over vivid colors. Also, simple color codes help to improve the flat design and make it look more elegant and fascinating to the audiences. Thus, it will help you to get noticed among huge users and to grab attention of potential viewers and make them engaged on the application for longer time.
Online Shopping through App Will Boost
As per the user behavior and stats, it has been noticed that the mobile app users has considerably increased in the last few years. And there was a grand move in the online retail store applications. Hence, we can expect that the mobile commerce will certainly gain more attention in 2015. Due to this rich UI will be required and designed accordingly to provide optimal shopping experience on mobile devices.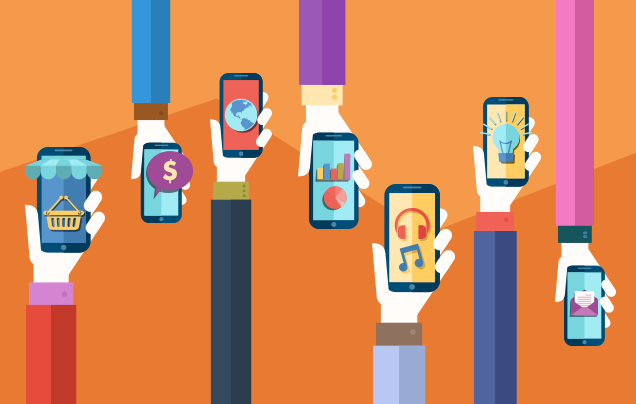 Attractive Call-To-Action on Shadowy Backgrounds
The Call-to-Action buttons are very crucial for any website. If the CTA buttons are designed & placed properly, they will help you to get more business and increase your sales. It gives you lots of benefits when you grab user's attention on the right UI elements, as it's a core purpose of any application. CTAs placed on the shadowy backgrounds will help you to get more user engagement. It will improve the overall look and feel of the application while ensuring a UX.
Don't Forget the Wearable Devices
In the last decades, mobile app is going to get into a new phase with the wearable devices. Wearable devices become very popular and get user attentions. Specifically, an iWatch designed by apple is announced, which is expected to launch in store within this year. Since, your apps will not specifically build for iWatch or other wearable devices; it will also work with iPhone, iPad and other mobile devices with a suitable strategy.
Payments App for Mobiles
Apple Pay is widely accepted and gets a great market response from users & businesses. As per this, we can expect that more mobile app will come and build with diverse payment abilities like Apple Pay and similar to that. Integrating Apple Pay and other payment apps will definitely give a huge impact on the UI and UX design pattern. So, if you are planning or building any application with such kind of features you have to ensure highly user-friendly and simple UI design for the application.
Proffer Screen Agnostic Experience
With the growth of the mobile market, there are lots of mobile devices available in the market with different size and shapes. Ensure n built an app which can be easily accessible on wearable devices, tablets, Smartphones and other devices. It will eventually append to the demand of the screen agnostic design.
Social Media Integration
Considering the expanding popularity of social media, there will be application presenting icons easily likes and sharing stuffs direct on different social media networks like Twitter, Facebook, YouTube, etc. Social media integration in mobile app already get a good response in last year and it's predicted to continue and will boost in 2015.
Parallax Scrolling Design
The parallax scrolling website is a new website design criteria comes in the market in 2013 and in a short time it becomes very popular and widely accepted by designer & developers. Parallax scrolling offers excellent work over the mobile and small screen devices rather than clicking. As the screen of mobile devices is small, scrolling the screen is quite easy and convenient than clicking to read the text or perform any other action over the tab. Thus we can say that parallax scrolling design will also work well in mobile UI design trends in 2015.
Responsive and Material Design
Android Lollipop has revealed material design which has incredibly gained excellent popularity among mobile designers and mobile users. The main benefits of the responsive design are imminent. So, responsive design and material design both trends will play their main role in the coming few decades.
Mobile Integration with Automobiles
Not just mobile devices, but automobile will also make use of the mobile application design trends in the year 2015. There will be lots of applications which support GPS via Wi-Fi in the vehicle and so forth. These trends will impact the app design to make sure easy navigation and high versatility for the customers.
In Short..
Designing a mobile app while keeping these UI/UX design trends in mind will not only helps you to design an amazing app UI but also provide excellent UX. No matter, which mobile platform you are targeting, these mobile design trends are assumed to be popular over all the mobile platforms.