Latest Mobile App Development Trends Widely Accepted by Enterprises
Every day new tools and technologies comes out in the mobile app development market, which motivate developers to implement those new things in their development. Like other consumer sectors, enterprises are also taking the advantages of the mobile applications. Moreover, it's been noticed that most of the companies are adding their huge amount of development resources for improving the current applications. Hence, this doesn't suggest that they are not taking triggers in new growth techniques, most of their new projects determine you will have advanced mobile application development.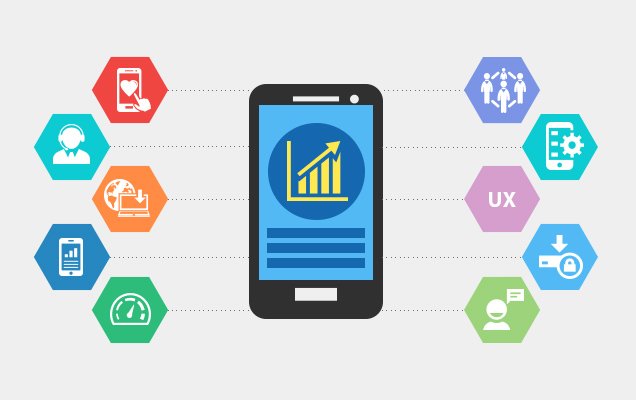 Let's check some latest mobile app development trends which most enterprises are applied to their business success.
Support Details From Various Backend Techniques
Consecutively to focus potential customers, companies are developing apps by considering this aspect. Therefore, web developers incorporate various backend data sources and apps and let enterprises serve the requirements of the users with different mobile devices.
Expand their Attain to Mobile Users
Now a day, Mobile users are becoming the more priority users for companies. With the help of various mobile apps, they can easily reach to their targeted audiences and can easily promote their services & products it will help enterprises to improve their efficiency to meet clients requirements. May companies accepted & implemented various features, which signify their move towards the mobile. Apps are included with latest touch devices and support different screen size devices with excellent designs, so they offer navigation ease to Smartphone users.
Implement Agile Behavior
Agility is the main essential concept seen in the latest mobile applications launched by enterprises. You might observe that application launched by any enterprise get regularly bug fixes or updates new features, etc. mobile app development teams are working hard to get instant support and response to be with the latest trends. In addition, the application also allows user integration in the development process and collaborate social tools.
Compatibility with Third Party Apps
Nowadays businesses prefer to develop cross platform apps for their products. There are several of devices available out there, which works with BYOD concept. This eventually becomes the most demandable things in the mobile apps market. The cross device concept runs on implemented once and run anywhere strategy. Still, they create native apps and incorporate cross device technology, which makes things complicated with new challenges.
Improved User Experience (UX)
Easy navigation gives best user experience to users and makes it more user-friendly and easy to access. It is crucial that the developed apps must deliver a hassle free and practical user experience. While companies are paying more attention into graphics and design of the application, there is a big demand for knowledgeable app designers and developers. They likes to stay updated and knowledgeable developers can easily develop easy to use interface for mobile apps.
Simple Software with Less Installation Time & Run
Currently, people are more willing to look for software, which smoothly installs on their devices with less time and run efficiently. To create such kind of apps, an updating in development tools has been required and observed. Web developers prefer to work with less complicated development tools instead than others, which make their development procedure more complex. For example, using NoSQL instead of relational database, web servers instead of App Servers.
Take Advantages From Current IT Services
Again, using the current resources is a best working practice and most of the businesses work with this work practice while developing mobile applications. It will includes directories, security services, etc. developing the available IT sources not only let them develop cost effective framework but also accomplish one to perform effectively. Nowadays, businesses are more willing to work with open mobile infrastructure, as it offers several benefits.
Given proven mobile app development, techniques confirm that businesses are also works smartly and adopting new mobile development techniques to obtain the highest possible benefits.