10 Mistakes Done by Professionals in Design Usability
The web is full with different how-to post content and tips for achievements. It's been difficult to find people who feature about the mistakes they have made.
Still, when we do come across one such kind of posts, we got many new things to learn. We make mistakes on different occasions and learning from, those mistakes are essential to get success in your long-term business. Even it is more beneficial to us if we learn from others mistakes too! In this article we are going to discuss about some important design usability points on which professional are also not taking it seriously and do mistakes.
Lack of Consistency/Reliability
There is a time when we have to showcase creativity and have to maintain simplicity. When it comes to designing website pages for the same site, it's best to keep it easy in look.
Users anticipate seeing the same colors, fonts, navigation styles, logos and more at the same position on each website page. Don't confuse your users with unreliable webpage design.
No Search Option Available
Google and yahoo are well-known platform to search details, which users want and get it quickly. Web designers have to ensure that the detail on the site that they are designing is easily available to the users. To implement these things, add a custom search box on the site that improves our website's user experience.
Navigation Structure
Easy and uncomplicated navigation structure, help users to easily navigate on your website. Also, use breadcrumbs in your navigation structure, which helps users to know where they are on the website.
Old Content
When it comes to website content, it should not be outdated and common. Remove old, outdated content from the site and maintain the page with new and informative content. Old content can either be modified and created appropriate for customers or redirected to the appropriate content page. Having a page with old content makes users left from your website and also makes them less likely to come back to your site.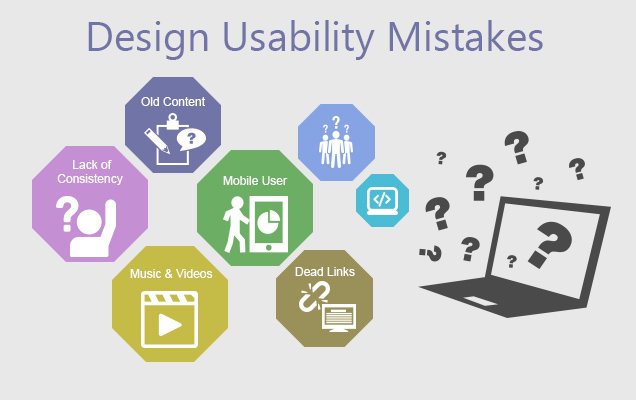 Dead Links
Like the content, links are also needs to be supervised regularly. Dead links irritates users and looks unprofessional. Remove dead links and substitute them with new relevant links to keep users visited and engaged to it. With the help of Google webmaster tools and other online software, you can find the dead links for your website.
Non-traditional Content Organization
Keep your website structured. Attract users with the most essential and useful details. Make other details easy to find, by placing it in a realistic area of your website. Ensure the various kind of user a website gets and arrange details to fulfill diverse needs.
Inadequate Legibility and Readability
Users come to your site to get some details. With making the details easy to find, ensure it's also easily readable to users.
Always use easy to use font colors. You are always free to choose the fonts and font color which you want for your design but choosing wrong color combination makes it difficult for users to read. It's always preferable to use black color for website content and white in background.
Don't do much experiment with your fonts. San serif is the basic and commonly available fonts seen on various websites. You can use it or other easily readable fonts for your website. However, don't use more than three types of fonts and font size for your website content.
Write content in short with proper whitespace and line spacing.
Music & Videos
Website containing music and video sometimes annoy the users a most. Add a music or video if it's completely relevant to your website. Also, if the music player is used, it must not play music directly when users comes to the site. Let decide the users that he want to play the music or not. Don't play it directly when users visit your site.
Not Considering Mobile Users
With current techno trends, we all are aware about the importance of the mobile devices. Still various designers forget to consider this. Designers must have to think about their users first. Those design pages are easy to read and view on small screen devices. If not, then design separate mobile site.
Not Considering the Contact Us Page
Contact us page is one of the most visited page of the website. It should not be neglected at any stage of website design and development. Providing sufficient contact details is important. It's the first step towards client commitment and the necessary link between customers and customer service representative.
Design a contact us page with all the necessary details like, email id, contact no, physical location address, fixed line number, map direction, live chat supports, etc.
While some creativeness may be appreciated, an easy website with simple and effective functionality often offers an excellent user experience, which actually appeal and please the users.